About Jennifer Stabrylla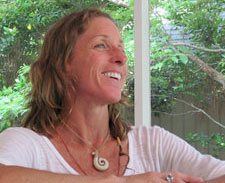 I have been doing massage since I was 14 years old when, as a competitive swimmer, I began massaging my teammates and my hands intuitively knew how to make people feel better. At a young age, I knew that was my calling.
For several years I only massaged family, friends, and teammates. Shortly after I moved to Hawaii and volunteered at Queen Emma's Summer Palace, I decided to study formally after hearing about Hawaiian Lomilomi massage.
Background and Experience

In 1998 I heard about a well-known Kahuna named Aunty Margaret who was the first Lomilomi teacher certified by the State of Hawaii. (Read Aunty's story here).
I took the one-month massage training in Ke'ei. That experience at Aunty Margaret's was stellar! I received a blessing from Aunty Margaret that changed my life, "Jennifer, you have love in your hands." When I graduated in March 1999, she asked me to stay on as her apprentice. For 2 years I lived in a tent with my 100-pound doberman, had only cold brackish water showers, and was far removed from society – no television, no cell reception, no address, and no mail; life was bliss….the old Hawaiian way. It was eight miles to the nearest anything! As an apprentice, I helped teach classes, worked on Aunty, and performed caretaking jobs around the property. I also did apprentice massages on travelers from all over the world who came to meet Aunty and experience Lomilomi. In August of 1999, I graduated from the advanced massage class and in 2002, I passed the state licensing exam and have been happily massaging ever since.